Day 1: Paris
Passengers are welcome to board our ship at 5:00 p.m. After comfortably settling into your cabins, we'll introduce our crew at a welcome cocktail before dinner.
Day 2: Les Andelys - Rouen
The morning will be spent cruising on the Seine. Join us for an optional excursion to Martainville Château, the sumptuous country home of a 15th century banker. Tonight is our Christmas Eve evening and dinner. Midnight mass will be celebrated in Rouen (2).
Day 3: Rouen - Duclair - Honfleur(2) - Rouen
We'll cruise towards Duclair. We'll be transferred by coach to Honfleur. Join us for a guided tour of this city, the most picturesque of the fishing ports. This afternoon will be spent cruising towards Rouen along the scenic Seine River.
Day 4: Rouen
Join us for an optional guided tour of Rouen. During this tour we'll discover the wonderful cathedral, historic districts, and the historic Market Square where Joan of Arc was burned at the stake. The afternoon will be spent cruising to Paris. Tonight is our gala evening and dinner.
Day 5: Paris
We'll arrive in Paris early in the morning. Enjoy one last buffet breakfast on board before disembarking at 9:00 a.m. End of our services.
STARTING PRICE

$1043 or €869

DURATION

4 nights

DEPARTURE DATES

EMBARKATION PORTS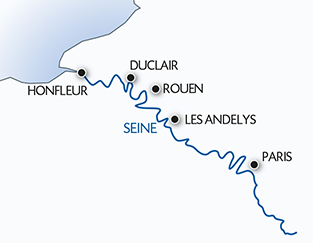 Send Your Request